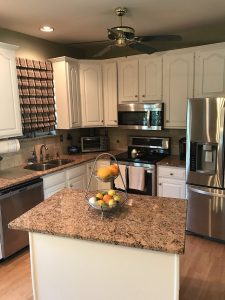 Another happy customer has saved a bundle thanks to kitchen cabinet painting by LaffCo. Painting!
The cabinet style in this Conshohocken home was beautiful, but the standard brown color blended in with the hardwood floors and brown granite countertops. It made the kitchen feel quite dull and dark, not at all the look the homeowner wanted.
LaffCo. applied a coat of off-white paint called Creamy by Sherwin Williams to all of the cabinet surfaces. We even painted the kitchen island, which had recently been installed but had not yet been finished.
Painting cabinets is a much more affordable way to get the look you want in your kitchen. No more shelling out buckets of money for costly replacements, just one quick call to LaffCo. Painting will get you the kitchen you've always wanted at a cost you can afford!
Click here for your free kitchen cabinet painting quote from LaffCo. Painting.
Conshohocken Cabinet Painting Photos