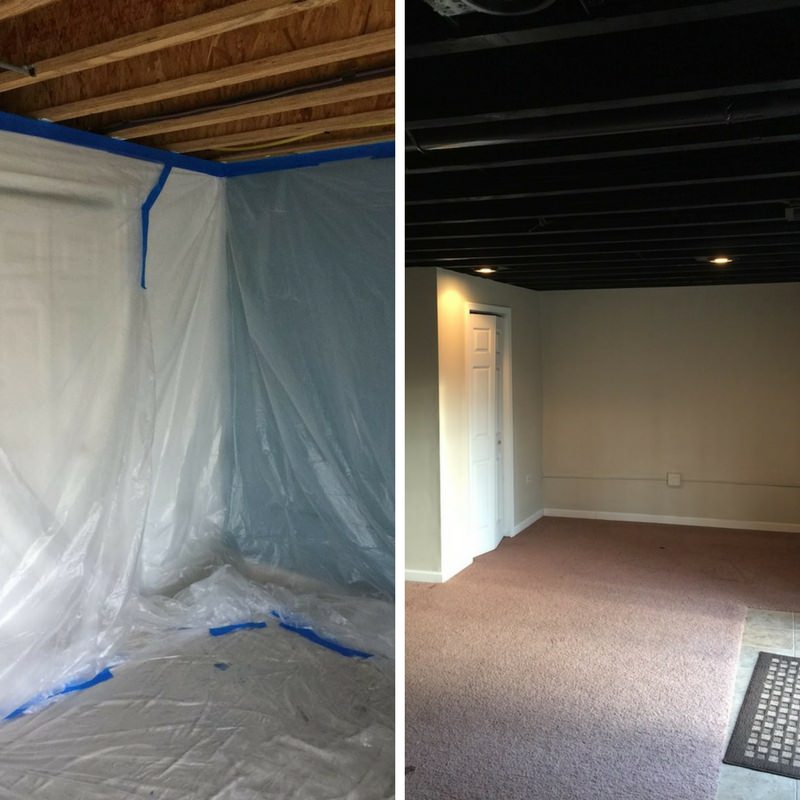 What do you do when you've recently had your walls painted the perfect color, and then realize that your ceiling needs a brand new look?
Call the experts at LaffCo. Painting for help protecting your walls and making your house look great!
A client in Royersford was trying to finish their basement. The walls had been painted in Edgecomb Gray and new carpet had already been installed. They were pleased with the hard work they had put in, and were ready to start decorating their new space.
Unfortunately, once they took a step back and looked at their handiwork, they realized that they had forgotten one crucial element: the ceiling!
They didn't want all of their hard work to go to waste, so they called LaffCo. Painting for help. They knew that we had the tools, equipment, and know-how necessary to finish the job without ruining the rest of their basement.
Our client wanted to paint the ceiling black. This is a very popular technique to help make a basement feel less claustrophobic by creating the illusion of a "never-ending ceiling." The easiest way to complete this task is with spray paint.
After covering every last square inch of wall and carpet in plastic, we were ready to get to work. It took tons of plastic and tape, as well as 10 gallons of black paint to complete the job. It was worth it; the finished basement looks incredible, and the homeowners can't wait to start using this brand new living space
Click here for your free quote on basement painting by LaffCo. Painting today.
Basement Painting In Royersford Photos